中国新疆,有一种美食叫馕。馕的叫法,出自古波斯语,意为面包,已有两千多年的历史。
Naan is a delicious local food in northwest China's Xinjiang. Named in ancient Persian, naan is a kind of bread with a history of more than 2,000 years.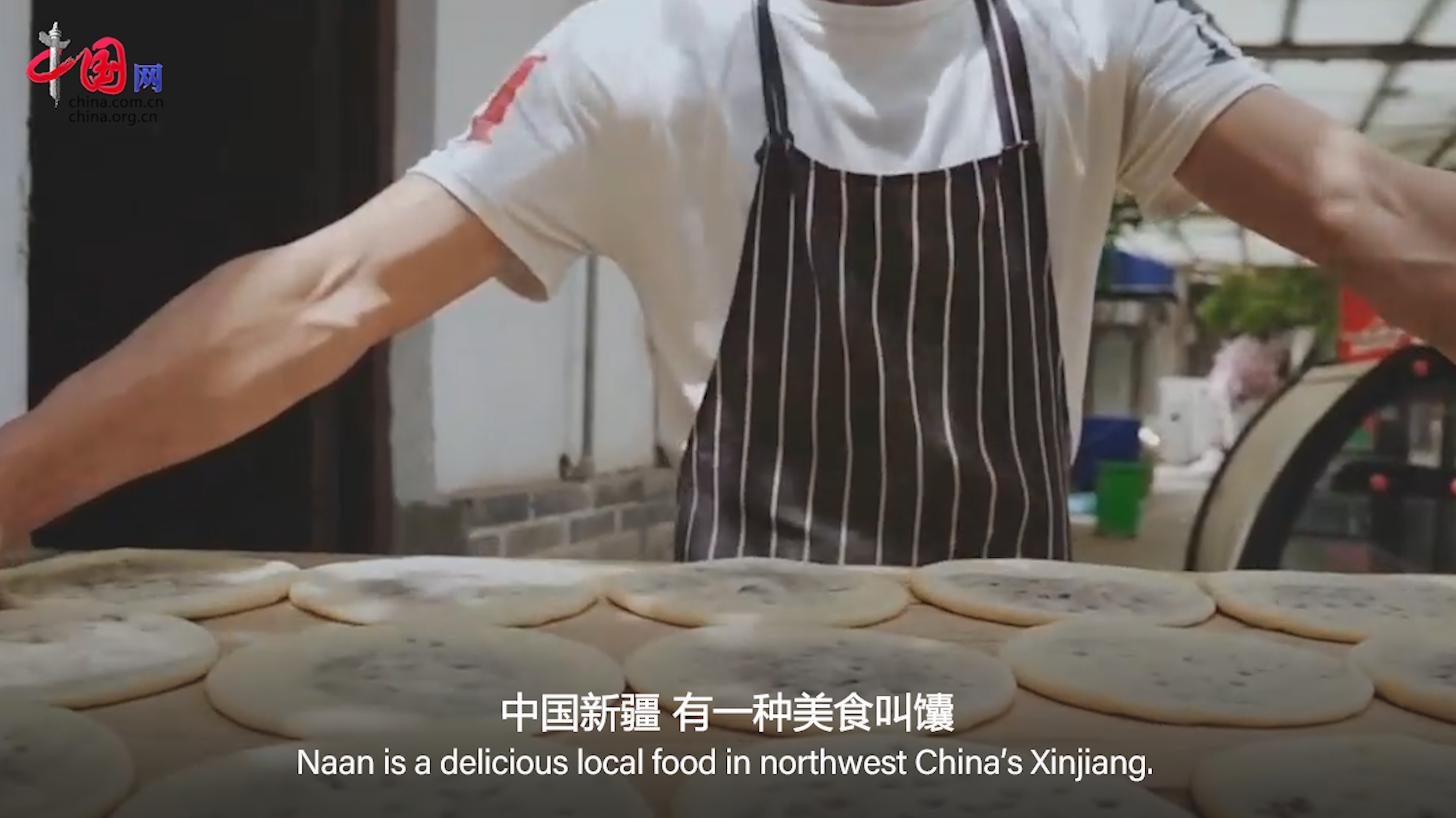 早在汉朝开创丝绸之路时,往来的商旅们便带着馕充饥,经数月也不会发霉变质。

As early as the Han Dynasty (B.C. 202 - A.D. 8) when the Silk Road was chartered, the business travelers would carry naan bread as food, which would not go stale for months.
如今,一张小小的馕,不仅是能填饱肚子的干粮,也是新疆饮食文化的灵魂。
Nowadays, a small piece of naan is not only the staple food to fill the stomach, but also the soul of Xinjiang's food culture.
【新疆美食传创者|龚浩荣】

在新疆"可以一日无肉,不可一日无馕"。馕在我们新疆家喻户晓,有各民族各派系,比如像它这个叫玉米馕,一碗奶茶、一个馕,非常地经典。馕便于保存、便于携带,也是新疆人待客的招牌主食。
【Gong Haorong, food lover and developer】
It's said that in Xinjiang, one can spend one day without meat, but cannot endure a day without eating naan. As a household food, naan has a wide range of variety depending on different ethnic groups. For example, this is called corn naan. A bowl of milk tea and a piece of naan bread is a very classic food combination. Naan is easy to preserve and carry, and it is also the signature staple food for Xinjiang people to entertain guests.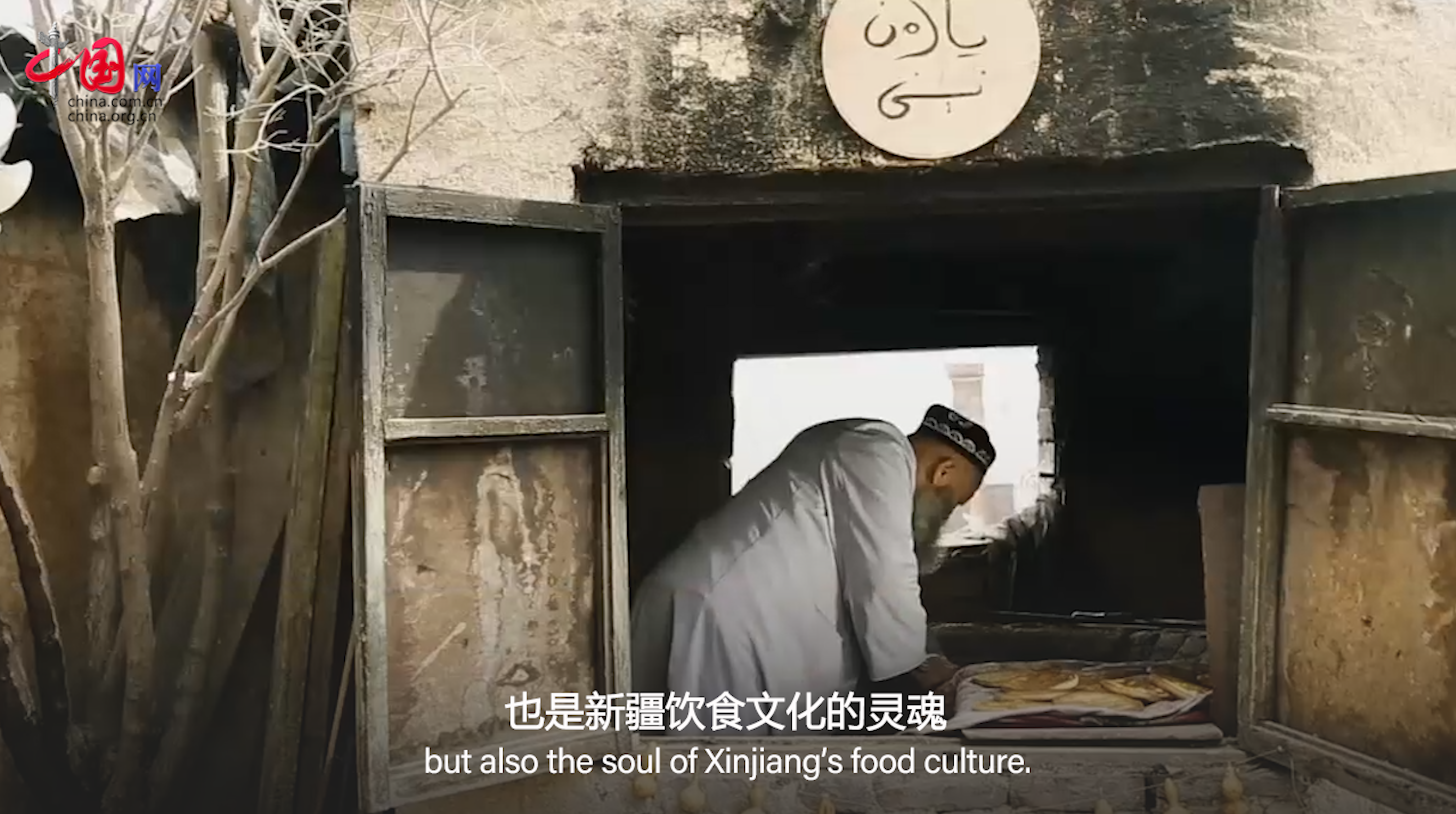 新疆人对馕格外珍视,用餐讲究细嚼慢咽,通常将馕掰成若干个小馕块,泡在肉汤、奶茶里食用,掰馕是新疆食馕文化的重要一部分。在新疆人的观念里,馕要懂得与人分享,圆圆的馕也象征着团结友好。
Xinjiang people cherish naan very much, and they enjoy it in a sophisticated manner. They usually break naan into several small pieces and soak them in broth and milk tea before eating. Breaking naan into pieces is an important part of naan culture in Xinjiang as they believe naan should be shared with others and its round shape stands for solidarity and good will.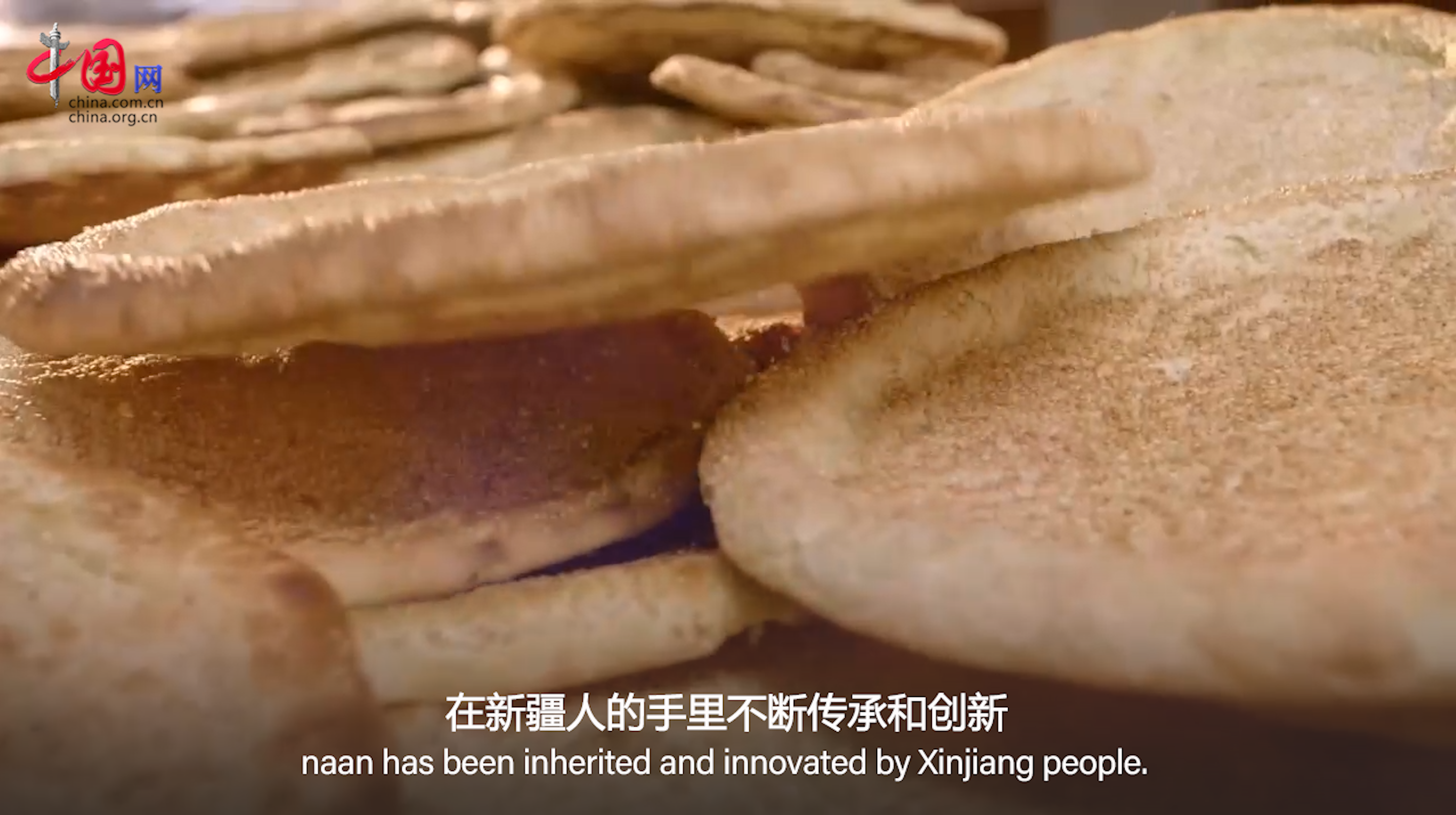 拥有两千多年历史的馕,在新疆人的手里不断传承和创新。一张直径7.1米的馕屹立在新疆乌鲁木齐馕产业园内,成为新疆旅游打卡的新地标。据统计,现有的馕品类已达到300多种,从传统的馕坑烘烤,到现代化机械生产,口感上从单一的味道,融入了很多个性化的定做,比如添加了辣椒的辣皮子馕,口感咸辣,别有一番滋味。
With a history of more than 2,000 years, naan has been inherited and innovated by Xinjiang people. A 7.1-meter-diameter naan stands in the Naan Industrial Park in Urumqi, capital city of Xinjiang, becoming a new landmark of Xinjiang tourism. Official data showed that Xinjiang is now home to over 300 varieties of naan. The making of naan has evolved from the traditional pit baking to modern machinery production. Its taste varies in line with personalized ingredients. For example, the naan tastes salty and spicy when added with pepper.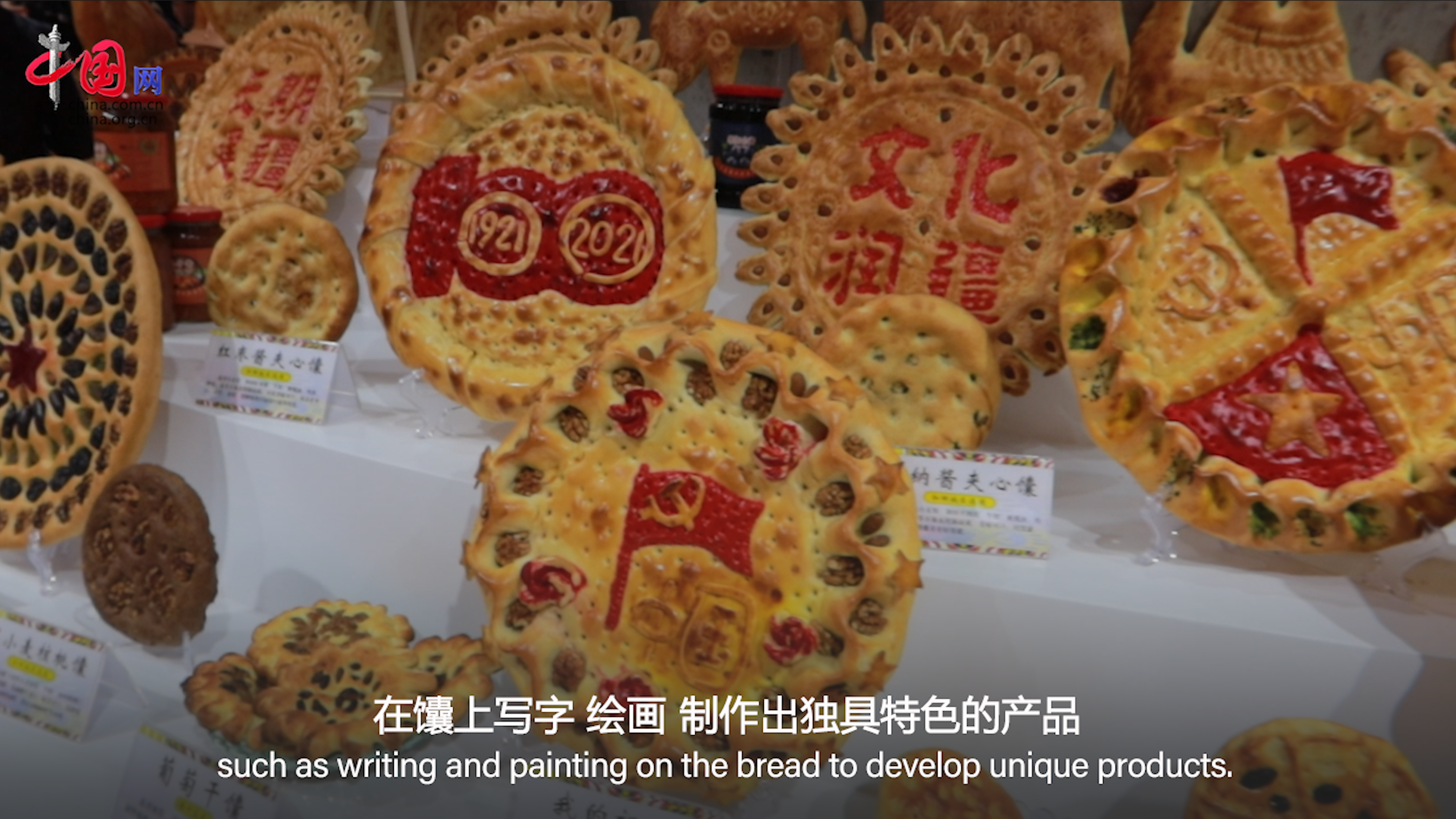 馕师傅在传统馕的基础上,融合现代化的元素,在馕上写字、绘画,制作出独具特色的产品,亮相于国内、国际各大展览会上,吸睛无数,新疆馕正在突破国界,让更多人看到新疆馕的魅力。

Naan-making masters integrate modern elements with traditional naan-making such as writing and painting on the bread to develop unique products. These innovative naan products are eye-catching in domestic and international major exhibitions, allowing Xinjiang naan to share its charm over the border.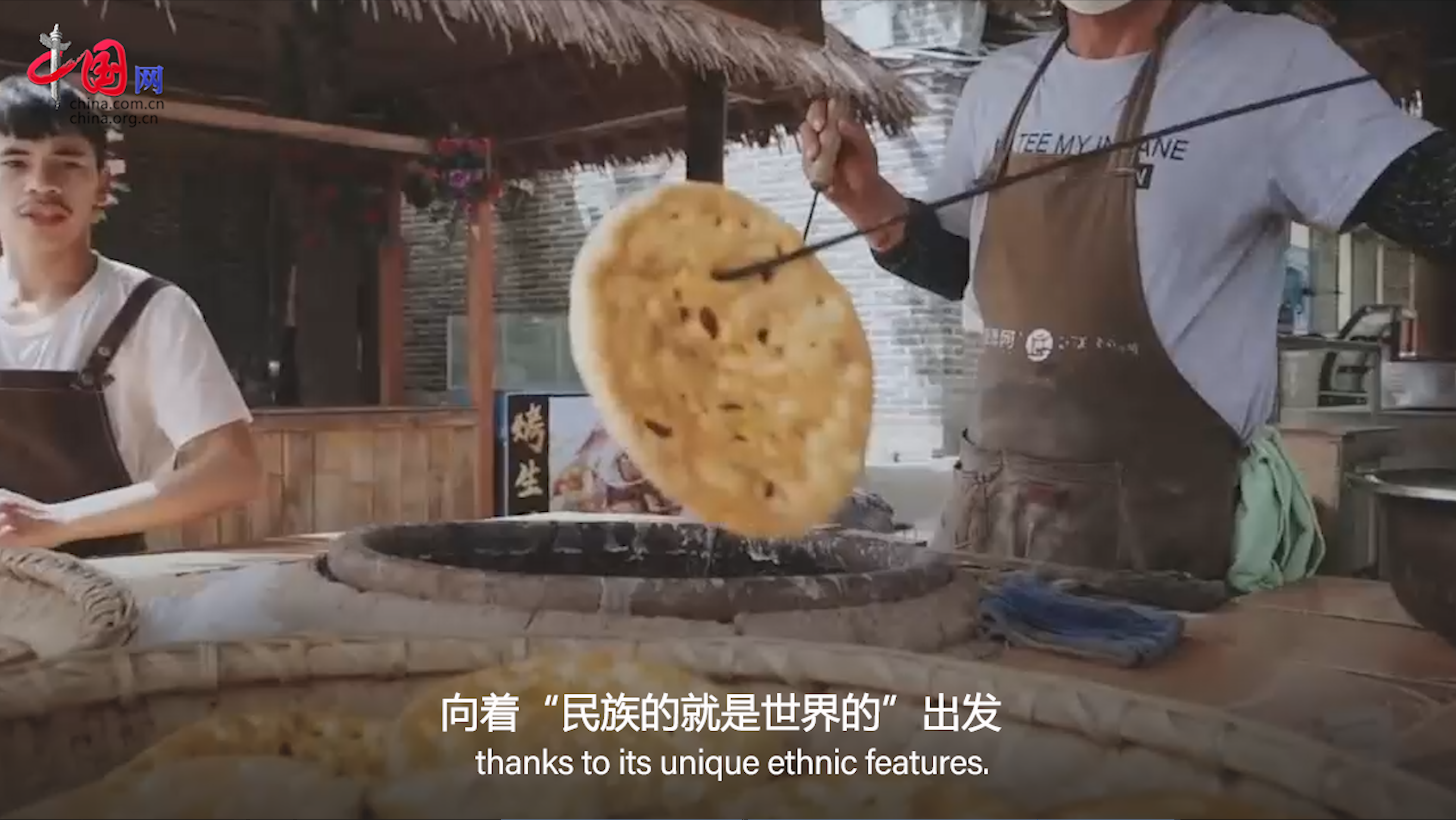 一张小小的新疆馕,在时间的长河里,散发着属于新疆"味"的独特魅力,向着"民族的就是世界的"出发!

The time-honored naan, full of Xinjiang local culture, is rolling on the global stage thanks to its unique ethnic features.